This molded vegetable salad from 1974 was an early attempt to dupe kids into eating lima

beans
Now, I'm the first to admit that I have trouble getting my daughters (seven and nine) to eat their vegetables.
As far as I am aware, the only ways to get reluctant kids to eat them is through one of two methods:
1.
Being mean
"Eat that bit of cauliflower or you won't get dessert."
or
2.
Being really mean
Leaving your daughter to stare at a mound of cold Brussels sprouts indefinitely while admonishing her with "This is all there is so suck it up," until she falls asleep face down in the veggie mush.
But neither of these is that great. In fact I recently found out that a pretty foolproof way to get kids to scarf down vegetables is to brainwash them into thinking that being served a steaming platter of freshly boiled beets is not only normal but desirable. And that the only way to do this is to start young and deaden their taste buds from an early age. Alas it is too late for my kids to go this route but I take my hat off to some friends of mine who are both vegetarians and the most godawful cooks on the planet. If they're not boiling the life out of vegetables they're doing insane things like making sushi out of cucumber and cream cheese that has the consistency of wallpaper paste and the gastronomic appeal of licking a snail. Now I'm not saying vegetarian food can't be delicious – it certainly can – but in the case of The Thompsons their food is definitely an acquired taste. Their daughter, Tina, her palate deadened from birth hoovers up any variety of mush that's proferred and shrieks with delight when presented with a platter of limp, over boiled broccoli. I have one of the strongest stomachs known to man but I cannot touch their tofu fried with onions (that's it – no spices, no sauce, nothing) or eat their pseudo meat nuggest that remind me of Styrofoam peanuts. They lucked out that Tina is so pathologically unpicky that she accepts it all from boiled squash to squished marrow.
But all alas was not rosy in the garden of the vegetable eaters. The Thompsons' son, Jake, once a passive bovine member of the family who troughed at the communal dull tasting fare one day went to a friend's house, ate a real chicken nugget and never looked back. Suffering from an overload of E additives and synthetic flavours he turned his back on nut cutlets and kept his mouth pressed firmly shut. At first his parents liked to joke about how Jake was 'a vegetarian that wouldn't eat vegetables' until they finally cracked and offered him hot dogs while trying not to think about all the pigs that died for the cause. Jake's case proved that even if you try to keep the diet of kids limited while at home at some point they may smell a forbidden chicken nugget and be lost to the cult of fast food forever.
Some parents – against all odds try and take the bull by the horns and exert control over their children's diets. Known as Health Food Nazis – and we all know one – they are people who have to have their kids eat every type of vitamin, mineral, protein and carb every day or they self destruct. So their daughter might have to say, eat one lettuce leaf, three prawns, two carrots, an apple, a slice of cheese and a tofu burger before she can have a 'treat' of soy yogurt that looks like hair wax. The amounts of vitamins etc the child has imbibed are entered onto a spreadsheet at the end of each day and mum or dad has to take a Valium if their girl forgot to eat a complex carbohydrate. This kind of 'extreme parenting' is all well and good but I think it can backfire. Mark my words, as soon as such a child is old enough to walk to the shops on her own I'm pretty sure she'll be truffling through a mega tub of Kentucky Fried Chicken or be found half drowned, flailing about in one of those supersized Big Gulp cups of Coke.
Cucumber and beet ice cream anyone? Emma in ecstasy as she discovers you can have your cake and eat it
But actually there is another – relatively sane – way to get your kids to eat veggies. I recently discovered
veggie ice cream
in a variety of flavours from butternut squash to corn on the cob. And yes, the kids love it. So it's got a ton of sugar and fat in it but what the heck – they're still eating red cabbage! No need to thank me for the tip. You're welcome!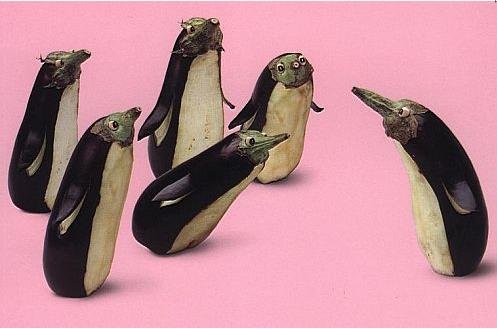 But I'm certainly still open to ideas. How do
you
get your sprouts to eat their Brussels sprouts? I do draw the line at making penguins out of aubergines though - life's too short!